Engage Your Customers this Holiday Time
on December 9, 2015 and No comments
When do customers introduce to receive promotional emails during the holidays? When do they typically engage the most with social posts? Do customers typically like to receive information before the big sales start or on the official day?
In order to shed some light this holiday season, Yesmail analyzed the social and email data of 50 major retailers from 2013 and 2014. Their report shows some wonderful statistics about the perfect times to engage customers during the week of Black Friday and Small Business Saturday. But the knowledge doesn't have to pull up there. Retailers can take this information and use it to better understand scheduling posts all throughout the holiday season.
Engagement Point 1: Email Early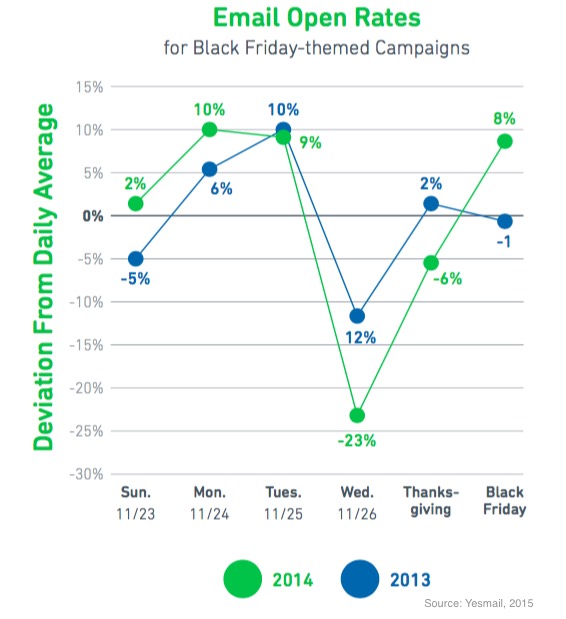 It is no wonder that customers will be reading emails this holiday season. What is a surprise, though, is when they will engage with those emails. Typically we've assumed that customers checked for emails the day of a major events; however, that hasn't been the case in years past. Instead, research shows that campaigns have upper than average open rates the Monday and Tuesday before Thanksgiving and Black Friday. What does that information tell us about Small Business Saturday and the rest of the holiday season? The answer…a lot!
How to Apply to Small Business Saturday and Your Holiday
Customers, whilst they are tied to their emails during all hours of the day, are not checking things at the last minute. Instead, they want see what stores have to offer and plan their shopping trip ahead of time. Beyond just planning, they also want to research. According to Google, "78% (of consumers) used the internet for holiday research last year." That means people need time and information to do that purchase decision.
When looking to cadastre your sales and promotions for the entire holiday season, inform your customers well in advance. That doesn't mean a quick sales email is a horrible idea, but expecting busy shoppers to spill everything in a moments notice is probably not the best idea.
Engagement Point 2: Post Often and Consistently
If emailing the day of a major sale is a big no-no, what about social? Ironically, social follows the same pattern as email. According to the study, the best day for engagement the week of Thanksgiving was Sunday (with Tuesday coming in second). Just like email, this statistic shows that customers are not running to social media the day of a sale for information. But, that doesn't mean that they are not on social media or that you should pull up posting altogether.
How to Apply to Small Business Saturday and Your Holiday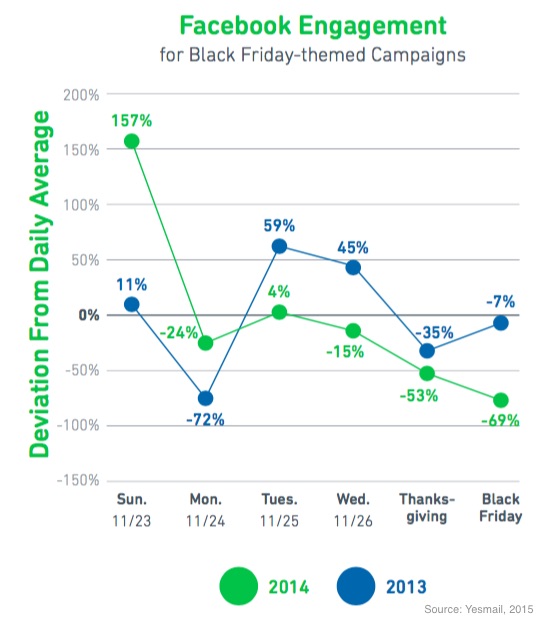 Brand awareness and engagement are key to being successful in the social age. What the research shows can help keep you relevant this holiday season. Just like email, don't wait until the day of a main sale to post information on social media. Instead, inform your customers early about the sale and use social media the day of the sale as a reminder. From there, post consistently each and every day. While it sounds like overkill, receipt your brand out there is never a bad thing. Just make sure to focus to something relevant. One idea is to encourage your customers to Check In at Check Out before leaving your store. Check out our video for some cool ideas on how to incorporate this idea in your marketing strategy.